Compositions by Christine Southworth
To purchase scores or parts, please click on links below for direct downloads. For bound/printed scores and parts, backing tracks, or questions, please email info@airplaneears.com

All scores copyright Airplane Ears Music (ASCAP)
Mushroom Modulations (2023, 1 hour)
Multimedia installation/performance work incorporates photographs and videos of mushrooms growing at Garden in the Woods, where I am the inaugural Artist in Residence, and around Middlesex County from summer 2021 through 2023, using these to create an immersive performance environment built from projections, live mushrooms, sensors, biofeedback instruments and analog synthesizers. The electrical currents given off by mycelium networks are thought to be used as communication between different fungal fruiting bodies. Surrounded by my own images of mushroom colonies growing and fading throughout the seasons, this piece is about making music with live mushrooms that I've grown, as well as logs and fallen branches with fruiting mushrooms found in the forest, by "listening to" slight electrical variations in the colonies via electrodes placed on different parts of the fruiting growth and converted to sound.
The Planet After Geoengineering (2021, 13'30")
Soundtrack for film by Design Earth, to be premiered at Venice Biannale Architettura 2021.
Joyride for Gigi (2020, 5'30")
For vibraphone, piano and bass. Commissioned by Else If Else.
Northern Bald Ibis (2019, 1' - electronic)
Score to short animated film about the endangered Northern Bald Ibis, commissioned by Institute for Digital Archeology
Spider's Canvas / Arachnodrone (2018, 55' - multimedia)
We play in the canvas of the spider, using sonification of 3D models and 2D images in the harmonic language of Just Intonation. Rather than playing with the spider herself, we are using her webs as the basis of our music, reading her scores, using her geometries as the foundation for our vibrations, she provides us a soundscape through which we can wander. Spider's Canvas was premiered as part of Tomás Saraceno's Carte Blanche exhibit at the Palais de Tokyo, and was developed as a collaboration between Ian Hattwick, Christine Southworth, Isabelle Su, and Evan Ziporyn. For more information, press and videos, please visit arachnodrone.com
Don't Want to Wait (2017, 8' collaboratively composed with Evan Ziporyn) for solo piano, commissioned by Joel Fan
琮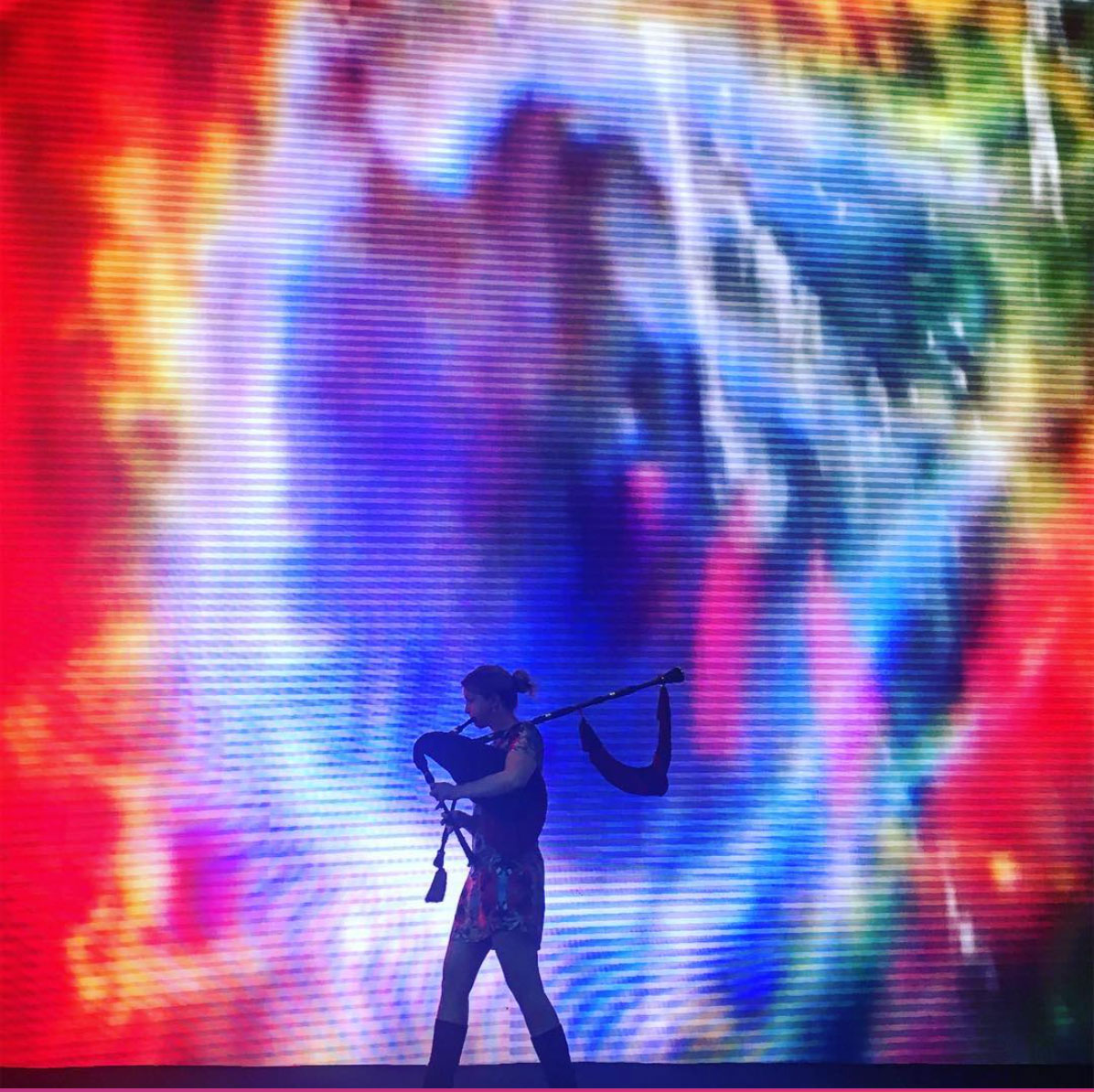 (2016, 21' in 3 movements for electronics, video and solo Galician Gaita)
Electronic tracks developed from sampled music of the world and sounds from space, courtesy NASA, with projected video and live solo Galician Gaita. 琮, pronounced cóng, are ancient Chinese jade artifacts from the Liangzhu culture (3400-2250 BC), rectangular objects carved on the outside, and hollowed out with a circular tube on the inside. It is said that the squareness of the outside represents the earth and a circular inside represents the heavens. I discovered these beautiful and mysterious objects while visiting Hong Kong in 2015, and took the idea of this representation of earth and the heavens as the influence for this work.
A Portrait of the Lemur Conservation Foundation in Myakka City (2015, electronic with video)
The Lemur Conservation Foundation (LCF) of Myakka City, Florida, is dedicated to the preservation and conservation of the lemurs of Madagascar through captive breeding, scientific research and education. In January, 2015 I spent a week at the LCF getting comfortable with their resident lemurs, allowing them to get comfortable with me, and filming and recording them. The experience was unique and magical, and highly emotional, knowing that these beautiful, intriguing creatures at at high risk of extinction. This is my multimedia diary, my attempt to give you a sense of who these animals are and how they live.
Borderland (2014, 16' in four movements, collaboratively composed with Evan Ziporyn) - 8 part vocal ensemble (2 soprano, 2 alto, 1 tenor, 3 bass) Composed for Roomful of Teeth. Borderland - our first completely collaborative piece - was composed in the summer of 2014 in Motovun, Croatia, while events in Ukraine unfolded. We had arrived in Croatia overland via Poland, Slovakia and Hungary, so the news we received was both constant and consistently filtered through a multicultural, multilingual polyglot. Our own growing awareness of the situation was thus itinerant and culturally contingent, and this seemed to match somehow with the multifarious ways in which Ukraine is regarded by the people of the region: aptly, its name itself means 'borderland.' Roomful of Teeth's formidable palette of vocal techniques - particularly their openness to the sounds and styles of various non-classical European traditions, such as yodeling, Croatian close-interval harmonies, and Sardinian overtone-sining, allowed us to evoke this figuratively through timbre.

The innocent casualties of conflict in the region go back generations, too many to even mention, from the passengers on the Malaysian Air jet this summer, the atrocities of the Second World War, back through the starved and displaced during the Great Famine, the pogroms before that, and the forced transmigration of the Tatar people, the original inhabitants of the Crimea. This piece uses the multilingual unfolding we experienced in becoming aware of the situation to reflect on it all, to provide a space for thoughts and feelings about the the consequences of territorial violence.

The texts for the four movements retrace our own journey from up-to-the-minute news reports to deeper history: the first movement - in Dutch and Malay - is based on tweets from a passenger on MH17 and a Malaysian Air official; the second movement - in Russian - sets transcripts from partisan radio communications regarding anti-aircraft equipment. The third movement literally grounds the piece with words by the Ukrainian national poet Shevchenko; the fourth takes us to the source with poetry (in Tatar, a dialect of Turkish) by Çobanzade.

The piece is dedicated to the people of Ukraine.
Sparkita and Her Kittens (2014, 5') solo piano
For Sarah Cahill, in honor of Terry Riley's 80th Birthday
Sandpiper Dance (2014, 4'40") solo violin
Plungedivers (2014, 3'20") solo cello and solo violin versions
Scale (2013, 6'18") cello, electronics
For Eric Byers, inspired by mountain climbing and The Nose of El Capitan.
Buy score below for digital download. Backing track is included in price, please email info@airplaneears.com for backing track.
In My Mind and In My Car (2013-15, evolving length in several movements ) solo bass clarinet, electronics
for solo clarinet / bass clarinet plus electronics. For Evan Ziporyn.
Hermit Thrush (2013, 7:42) electronic with samples of bird calls and Southworth as vocalist. For Ayu. Commissioned by Alison Chase Performance: Tracings, set to an original score by Christine Southworth that interweaves the hermit thrush song with Morse code creating a hypnotic sonic landscape. Tracings was created as a physical tone poem where a soloist exists in a terrain of moving bodies that invokes the rugged beauty of the coast of Maine (where Chase currently resides).
Morse Norse Love Song (2013, 3:36) electronic with bass clarinet

Myanmar (2013, 3:30) electronic

Seahorse Dance (2013, 3:14) electronic with video
The Music Room (2013, 5'15") for Apple Hill Quartet
Commissioned by the Redfern Arts Center on Brickyard Pond.
La Fée Verte (2013, 12 minutes) for chamber orchestra and Galician gaitas. I first became obsessed with bagpipes when my grandfather, Boston Police Lieutenant David Moran, passed away. I was 14 years old, and at his funeral police pipers played, just before the rifles were fired. I was overwhelmed by the power of the instrument, of course compounded by my own sadness and emotion. Years later, a good friend died and another friend wrote him a requiem performed by 12 bagpipes, and after being in denial about his death the power of the sound again made be burst in to tears. Then I was out a Tanglewood at a Silk Road retreat and Osvaldo Golijov had brought a friend, Cristina Pato, to demonstrate her instrument, the Galician Gaita. I was blown away, for the first time the power of the instrument hit me with pure joy, I had never heard bagpipe played like this and by a woman, it was just spectacular! I immediately found a bagpipe teacher in Boston, and started learning Highland pipes, and a few years later, in 2010, went to Galicia and began studying the Gaita. This piece is dedicated to two great gaita players, Cristina Pato and my teacher Anton DaVila. La Fée Verte was commissioned by The Silk Road Project.
La Fée Verte (2012, 12 minutes) for Galician gaitas in G and C, string quartet, contrabass, and percussion
Commissioned by the Silk Road Project.
Ann Lee Songs (2012, 20') soprano, electronics
Song Cycle for Shaker Mother Ann Lee. Commissioned by soprano Anne Harley.
Buy score below for digital download. Backing track is included in price, please email info@airplaneears.com for backing track.
Talek (2011, 3 minutes) for viola, Galician gaita, & clarinet
Commissioned by Roger Michel.
100 Pieces for 2 Pianos (2011, 50') two pianos
Commissioned by Radio Orchestra New York
Super Collider (2010, 18 minutes) for Kronos Quartet & Gamelan Elektrika. Premiered at Lincoln Center Out of Doors Festival, August 13, 2010 by Kronos Quartet and Gamelan Elektrika: Evan Ziporyn, kendang; Sean Mannion, kempli; Balaji Mani, ceng-ceng; Laurel Pardue & Sachi Sato, pemade; Katie Puckett & Sam Schmetterer, kantilan; Mark Buckles, Ramon Castillo, Elizabeth Johansen, Julie Strand, reong; Beth Mullins & Po-Chun Wang, pokok

Gamelan Elektrika is an electronic "virtual gamelan" designed and developed by Alex Rigopulos (founder and CEO of Harmonix Music, inventors of video games Guitar Hero and Rock Band). The piece is inspired by the Large Hadron Collider at CERN - the largest machine ever built, that's purpose is to change science forever, recreating the beginning of the universe in a tube and proving (or disproving) the theories of particle physics of the last half-century.

"Particle physics is the unbelievable in pursuit of the unimaginable. To pinpoint the smallest fragments of the universe you have to build the biggest machine in the world. To recreate the first millionths of a second of creation you have to focus energy on an awesome scale." - The Guardian

Super Collider will explore two obverse sound worlds and traditions, the vast culture of the string quartet juxtaposed with the ancient performance methods of a gamelan, unleashed through the unlimited sonic universe of electronics. In our own test-tube experiment, this musical moment of collision will hopefully achieve similarly unparalleled results.

What does particle physics have to do with music and art? String theory, which the CERN facility hopes to verify or disprove, presumes that matter itself is the manifestation of resonant vibrations, that the world itself is a universal harmony. This post-modern notion - which Kronos embodies with every performance - itself resonates with the ancient Hindu notion of om, the absolute manifest, which is the basis of Indonesian gamelan. We will bring these two ideas of resonance together by combining Kronos with a gamelan - even a virtual one.

The behavior of subatomic particles is probabilistic, group-oriented: the motion of any one particle is unpredictable and unknowable: it's what the group does that counts. This could also be a description of the Balinese gamelan, where individual virtuosity is subsumed to interlocking patterns, composite melodies, the sound of the whole. This is also the spirit of Kronos.

When Robert Moog developed his synthesizer in the 1960s, he modeled its functionality on the piano and on western music in general - a single person, sitting at a keyboard. This is one reason why it was popularized by Wendy Carlos' Swtiched On Bach. Gamelan Elek Trika takes a similar approach to the very distinctive musical practices of Indonesia. Like the great gamelans of Bali and Java, Gamelan Elek Trika works as a single unit, played by a complete ensemble. The instruments are played like a gamelan - metallophones, drums, and gongs, playing interlocking patterns - but all are channeled through a central 'brain', a single processing unit which controls their sound, tuning, and timbre. The composer can thus alter the sonic environment globally, not just for one instrument at a time but for the complete ensemble.

Super Collider is made possible by generous support from Alex Rigopulos and Sachi Sato, MIT, and the MIT Media Lab. Gamelan Elektrika instruments produced by Alex Rigopulos; sensors, electronics, and interface design by Andrew Boch, Matt Boch, and Laurel Pardue; technical assembly by Stéphanie Bouchard; frame design and assembly by Quentin Kelly.
How the Cowboy Makes His Lariat (2010, 3:20) - two acoustic guitars
Commissioned by National Film Preservation Foundation for "Treasures [from American Film Archives] V: The [American] West". How the Cowboy Makes His Lariat (1917) Production Company: Bray Studios Inc., for Paramount-Bray-Pictographs. Cast: Pedro León. Transfer Note: Copied at 20 frames per second from a 35mm print preserved by George Eastman House. New Music: Christine Southworth (score), Charles Whalen (guitar), Evan Ziporyn (whistling). Commentary: Donald W. Reeves. Running Time: 3 minutes. Featured in Treasures 5: The West, 1898-1938.
Seeing Yosemite with David A. Curry (2010, 3:31) - violin, cello, piano, guitar, bass, drums
Commissioned by National Film Preservation Foundation for "Treasures [from American Film Archives] V: The [American] West"
Concerning the Doodle (2010, 14 minutes) - clarinet, cello, bass, guitar, piano, percussion
Commissioned by Bang on a Can People's Commissioning Fund. Accompanying animated film "Canine Reverie" by Clever Girl Collaborative: Amy Lovera, Christina Spangler, and Jessica Gidal.
Drone Zone (2010, 35') - composed improvisation by Christine Southworth and Evan Ziporyn, performed at Bang on a Can Summer Institute of Music @ Mass MoCA, North Adams, Massachusetts. Christine Southworth performs Highland Bagpipes with The Drone Zone in a new composed improvisation (led by Southworth and Ziporyn) based on music by LaMonte Young and Arnold Dreyblatt, for bagpipe, baritone saxophones, and strings.
Orang Besi (2010, 8') for Selonding Gamelan and electronics
Commissioned by ANMARO Performing Arts for Gamelan Semara Ratih. Premiered at International Gamelan Festival Amsterdam September 2010. Years ago in Tenganan, my friend Ketut showed me her freshly woven gringsing, the unique traditional cloth of the Bali Aga. They looked different than her older weavings - the colors were brighter, the pattern tighter, and when I asked her why she said that a mouse had eaten holes into her old cloth so she reused the thread, mixed with a new thread that she had just spun. Orang Besi ("Iron Men") is a concoction exploring the oldest, most authentic and most sacred form of Balinese gamelan, the selonding, blended with the newest and in a sense most artificial form, the electronic gamelan. Weaving elements of modernity into the fabric of the ancient Bali Aga melodies and forms, I hope to present a bright new take on a tradition that I hold in the utmost respect, preserving the essence of one of the most perfect musics in the world, embellished with a neoteric yarn.
Volcano (2009, 8') for string quartet + piano/percussion/sampler/voice
Commissioned by the Explorers Club for The Calder Quartet and Danny Holt. Premiered October 15, 2009 at Cipriani Wall Street.
JAMU (v.4) (2013, 10 minutes) - clarinet, cello, piano, violin, Balinese chamber gamelan: ceng-ceng, 2 gangsa pemade, reong, penyeceh, jegogan
JAMU (v.3) (2009, 10 minutes) - clarinet, violin, cello, piano, percussion, and electronics (sampled gamelan + Jamu remixed by Eric Gunther). Arranged for California E.A.R. Unit
Mars Rover / Snow White (2008, 6') for Beta gamelan (just intonation tuning), bass, keyboard, drum set, and computer voices
Honey Flyers (2007, 25') for string quartet + optional Bot(i)Cello or honeybee recording. Commissioned by the Carlsbad Music Festival for the Calder Quartet.
Robot Organic (2007, 10') for pipe organ, bass clarinet, Whirlybot & Heliphon
Heavy Metal (2006, 18') for Balinese Gamelan Gong Kebyar, guitar, violin, bass, lyricon, and robotic instruments. Commissioned by the Boston Museum of Science with the support of NEFA and Meet the Composer. Premiered on Wednesday, January 25, 2006 at Cahner's Theater in the Boston Museum of Science as part of Music & The Invasion of Technology, performed by Gamelan Galak Tika, Blake Newman, Erik Nugent, Todd Reynolds, and Eddie Whalen. Heavy Metal represents a new kind of fusion, multi-dimensional, making connections across cultures acoustic and electronic, western and eastern, high and low, human and machine. The piece was written for Gamelan Galak Tika, a Balinese gamelan in residence at MIT that has worked with electric instruments many times in the past, but this is certainly the first time a traditional Balinese gamelan has shared the stage with robotic instruments. In other ways, though, there is something very natural about these combinations: they reflect the way we all experience music in the 21st century. It could also be argued that this is simply an extension of the way music has always progressed and changed, as Chinese shawms morphed into oboes, and exotic middle eastern percussion instruments, like the cymbal and triangle, worked their way into the symphony orchestra. Heavy Metal engages the full force of two ensembles, Galak Tika and Ensemble Robot, as well as a living history of electroacoustic instruments, from the vintage lyricon to the Whirlybot. The sounds implicit in both senses of the title find their way into new combinations of struck bronze and excitable circuitry. Heavy Metal is based on American hard rock music from the late 1970's through the early 1990s. The idea started as a pun, because the keys of many Balinese gamelan instruments are made of metal, but when I began studying the melodic ideas and rhythms in heavy metal music, I found that they leant themselves very well to gamelan. The problem was that a gamelan has a very specific sound and limited timbral variation, the sounds of hit metal and skin. I feel that the sounds of the gamelan become much more interesting when combined with string sounds. Also, the gamelan uses a pentatonic scale so I am using western instruments and robots to expand the sound universe to a full spectrum. In this piece, the gamelan and the western/robotic instruments play separately – rhythmically they are together, and they are working through the same material at the same time, but the western instruments and robots do not play the 5 notes that the gamelan plays, and more often than not they stay out of that key (a variation of E Major, the gamelan tuning being C#, D#, E, G, and A) altogether. This creates a sense of two harmonic worlds co-existing and cooperating, the West and our technology with Bali and their technology, much more primitive but very powerful nonetheless.

Zap! (2005, 45 minutes) for Van de Graaff Generator, Lyricon, voices, guitar, cello, bass, percussion, piano, robotic xylophone and electronics. The sound of electricity at its rawest and most majestic - sparks, booms, lightning bolts, sizzling corona and low hums from giant motors - intermingle with the sounds of cello, bass, guitar, piano, clarinets, percussion and voice. Christine Southworth created Zap! in 2004 to explore these possibilities, using the Boston Museum of Science's Theater of Electricity as her venue and instrument. Its centerpiece - MIT Professor Robert Van de Graaff's eponymous Generator, was born in 1931 as one of the world's largest atom smashers. It is still the largest of its kind in the world, standing forty-feet tall and producing up to 1.5 million volts of electricity. Zap!, a composition in seven parts, takes the sounds of this machine, two large Tesla Coils, and a Jacob's Ladder, merged with rock rhythms and sweet melodies performed by Robert Black, David Cossin, Felix Fan, Philippa Thompson, Eddie Whalen, & Evan Ziporyn. The resulting music is ... electrifying!
Premiered February 4, 2005 at Boston Museum of Science by Ensemble Robot, Jeff Lieberman (guitar), Blake Newman (bass), Sachi Sato (keyboard), Mei-mi Lin (keyboard), Akili Haynes (percussion, voice), Erik Nugent (Lyricon, voice), Rebecca Zook (cello), Christine Southworth (voice, Van de Graaff controls), Leila Hasan (Van de Graaff controls), Giles Hall (robot controls).
Mesem (2005, 2:00) string quartet
Performed by string players from the Providence Symphony Orchestra, March 1, 2005.
Wind Quintet #1 (2005, 2:40)
Performed March 22, 2005 by Brown University student wind quintet.
Khaen Song (2005, 2:30) solo cello
Jamu (remixed 2005, 5') for electronic gamelan and robots, performed by Eric Gunther Premiered at Boston Cyberarts Festival Saturday, May 7, 2005, by Eric Gunther and Ensemble Robot. Choreographed by Ashley Salomon, danced by Kristin Marrs, Bethany Leclerc, Katrina Sukola, & Ashley Salomon.
Bend (2005, 4:30) for orchestra
Performed by Brown University Orchestra, conducted by Paul Phillips, May 3, 2005.

Mars Polar Landing (2003, 7 minutes) for clarinet, sax, trumpet, drum set, vibraphone, marimba, guitar, and bass
Jamu (2002, 10:30) for small Balinese gamelan, violin, electric guitar, and bass.
Flying Goldfish Flower (Sekar Ikan Emas Yang Terbang) (2002, 7:17) Gamelan Gong Kebyar.
Feed and Fly (2002, 6:19) for clarinet, electric guitar, cello, bass, piano, drum kit, and optional Balinese gangsa and reong.
Bang on a Can / Mass MoCA Performance (mp3 6.1 MB, 6:19) Live recording of performance at Bang on a Can Summer Institute of Music at Mass MoCA, July 25, 2002. Peter Askim (bass), John Benthal (guitar), Greg Beyer (percussion), Eileen Mack (clarinet), Michelle Schumann (piano), Wendy Sutter (cello), and Evan Ziporyn (gamelan)
Elf Grass (2002, 7:53) for clarinet, violin, cello, bass, and piano.
Play Me (2002, 16 minutes) for chamber orchestra with electric guitar; also arrangement for wind ensemble
Won American Composers Forum competition for reading by New England Conservatory Wind Ensemble, conducted by Charles Peltz, Jordan Hall, February 27, 2003
Wild Warped Wax (2001, 8:34) String quartet in three movements.
Timor Cotton (2001) for marimba, vibraphone, violin, and electric guitar
Performed January 31, 2001 at Kresge Auditorium, MIT. Laurel Smith (violin), Mark Stewart (electric guitar), Evan Ziporyn (vibes), Danny Tunick (marimba).
HarmonicsonG (2001, 4:30) Experiment with low G string on a violin, forming a song out of the harmonics. Influenced by Arnold Dreyblatt from whom I had just taken a class when I made this piece.
Violin/Clarinet (2001, 2:09) Original electronic piece made from sampled violin and clarinet (both performed by Christine Southworth).
Clapping Music (2001, 4:45) Loose arrangement of Steve Reich's Clapping Music for voice, violin, clarinet, rubber band, dizi (Chinese flute), and sampled percussion. Instrumental ambient music with a layer of two voices phasing the Indian jati phrase "takita taka ta taka". Written for MIT production of BHOMA, directed by Sudipto Chatterjee.

Music for Two Gender (2000)
Suite for two gender wayang, balinese metallophones which accompany shadow puppet plays.